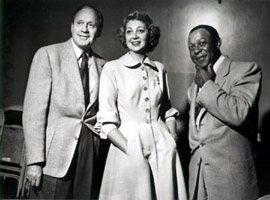 Six days a week, we're the "new sound of the Mon Valley." But on Sunday nights, we're the "old sound" of original scripted radio drama and comedy!
Jack Benny is back on the air on WMCK Sunday nights at 7. Each week, we dip into an archive of classic Jack Benny episodes, featuring his regular cast of naive tenor Dennis Day, alcoholic bandleader Phil Harris, rotund announcer Don Wilson, the "yes-s-s-s-s-s" man, Frank Nelson, Benny's faithful (but sarcastic) valet, Rochester, and Benny's real-life wife, Mary Livingston.
Listen, and find out why Jack Benny, the pride of Waukegan, Ill., and supposedly the stingiest man alive, was one of America's most popular comedians for 40 years.
Read More »